Martin's Restaurant – Web site design, Twitter customization and sync
Martin's is one of my favorite restaurants. We recently launched their new web site as well as customized Martin's Twitter page (@MartinsHazleton).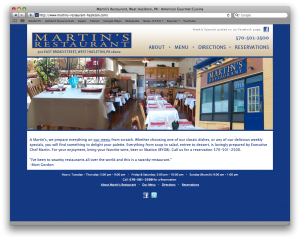 www.martins-restaurant-hazleton.com
We also synced their facebook posts with Twitter so customers can keep up to date on the oh, so wonderful specials as well as special events and holiday hours.
A quote from the Chef; "We offer the food on our menu for two simple reasons. First, I like to eat it and second, I would like to share it with you. From classic dishes on our menu to the eclectic specials we offer from cuisines around the world we use the best ingredients available. Our mission here is to serve you delicious food and make you feel at home. We would be honored if you choose to dine with us."
Martin Butkovsky
Chef/Owner